Are you looking for a well-reviewed real estate agent in Incline Village? According to Incline Village real estate agent reviews, one of the best people you can work with when buying or selling properties in Incline Village is Alvin Steinberg of Living Lake Tahoe.
He has 46 years of experience in the local real estate market. For proof of his work and his ability to exceed his clients' expectations, you can check the verified reviews that people who he has had the pleasure of working with have left on Zillow.
What Former Clients Have to Say about Alvin Steinberg
Alvin Knows Lake Tahoe Very Well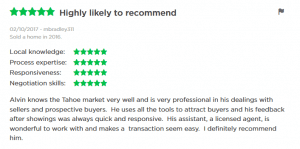 Mr. Bradley says that Alvin knows Lake Tahoe market very well. That is probably an understatement since Alvin has over 4 decades in the local real estate market and you will be hard-pressed to find someone with more experience than him.
Professionalism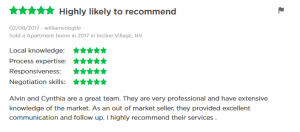 You should always seek to work with a highly professional real estate agent. There's no better epitome of professionalism in Incline Village than Alvin and Cynthia.
It Was Smooth Sailing for Pat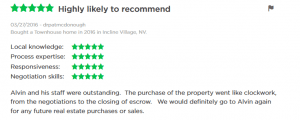 If you want a stress-free real estate prospecting and closing process, Alvin and his team are the people to call. You want a streamlined process that works like 'clockwork', as Pat put it.
Again, Knowledge of the Local Market is Appreciated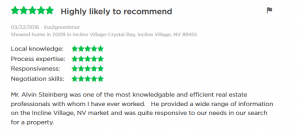 People seem to be highly impressed by Alvin's knowledge of Incline Village's real estate market. This is not an accident. With more than 4 decades of experience, it is hard not to become a master.
Wow! This Is Quite a Reputation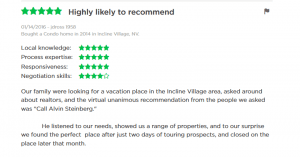 It takes a special kind of person to build such a solid reputation that when a person comes to town and asks for a person of your trade, you are the only person locals recommend. That's commendable.
Remains Helpful after Home Purchase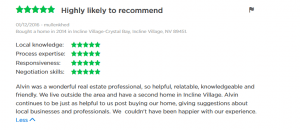 This buyer appreciates the fact that Alvin remains very helpful even after they had made their purchase. Since they live elsewhere and the Incline Village property is their second home, being able to contact a helpful person on the ground was highly appreciated.
Jim Thinks Alvin is the Best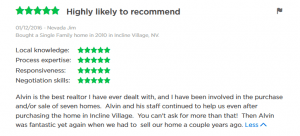 Jim has been involved in the sale and/or purchase of seven homes. He believes Alvin is the best realtor he has ever dealt with. In Jim's own words, "You can't ask for more than that."
Manik Agrees with Jim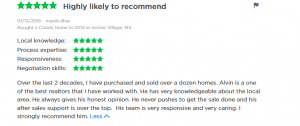 While Jim has been involved in the sale and/or purchase of 7 homes, Manik has been involved in 12 over the past two decades. He too thinks that Alvin is one of the best realtors out there.
Closing Thoughts
These are Incline Village real estate agent reviews posted by verified clients on one of the most trustworthy real estate portals in the world: Zillow.
You can read more Incline Village real estate agent reviews of Alvin here.
If you want to buy a property in Incline Village, feel free to contact Alvin today.
About Living Lake Tahoe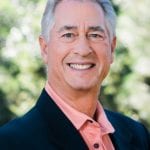 Living Lake Tahoe is a real estate agency based in Incline Village, Nevada. They help people looking to rent, sell, or buy luxury homes in Lake Tahoe navigate the local real estate market and achieve their goals as painlessly as possible. The team is headed by Alvin Steinberg who has over four decades of experience as a real estate agent. Alvin carries a CRS (Certified Residential Specialist) in both California and Nevada.