The unique Lake Tahoe homes for sale lakefront features make the neighborhood one of the best places to stay in Nevada. The lake is the largest alpine lake in the whole of North America and is also the second deepest lake in the United States.
When you tour the properties, you will notice that Lake Tahoe homes for sale lakefront views aren't limited to the beauty of the expansive lake. You will be treated to panoramic views of the Nevada Mountains as well. Further, orange and red rays spreading over the mountains as the sun sets can be spellbinding. If you have a wide balcony on an upper floor overlooking the lake, you will definitely enjoy treating yourself to the views in the evenings.
The prices of Lake Tahoe homes on the water vary greatly. The properties generally range from $1,500,000 to as much as $35,000,000. Homes with piers are in high demand and the value of piers alone often account for between $500,000 and $2,000,000 of a lakefront property's value. Since there are shoreline regulations that limit the construction of new buoys and piers, the value attached to piers is sure to go up with time.
Whatever your taste, you will find Lake Tahoe homes for sale lakefront amenities and architectural designs that meet your wants. There are homes that go for the modern look utilizing a lot of glass and other modern finishes. Some houses go for the rustic look and utilize wood accents to give the homes an authentic earth-tone look. You will also find castle-like buildings. With unhindered views of Lake Tahoe and the Nevada Mountains on offer, most homes have large or floor-to-ceiling windows.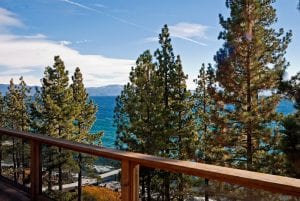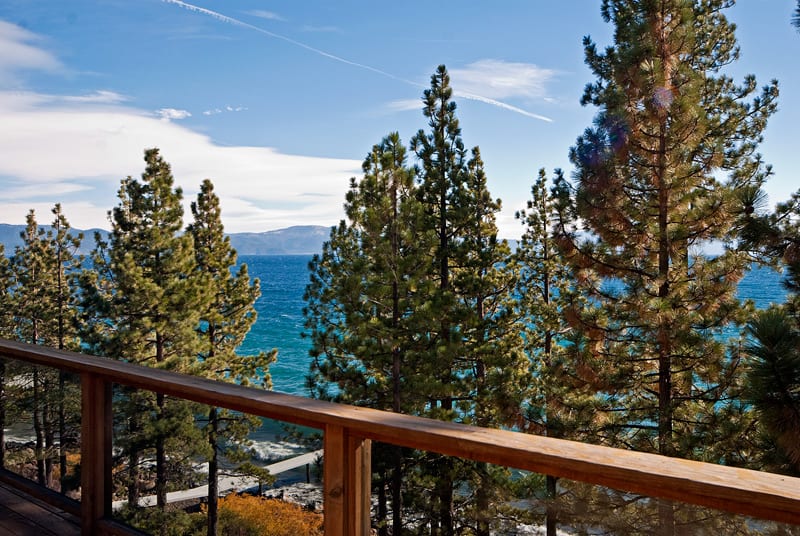 One Lake Tahoe homes for sale lakefront feature you are unlikely to miss is that many homes are surrounded by mature pine trees. If you love being surrounded by green nature, you will definitely adore the properties that line the coastline especially the Sunnyside neighborhood and other neighborhoods to the west shore.
Being by the lake also gives you an opportunity to enjoy some of Tahoe's most interesting lake activities.  You can take a cruise on Tahoe's MS Dixie II which offers several cruise packages including a sunset dinner cruise. The sunset dinner is a 3.5 hour cruise and you will enjoy a sumptuous meal on the water with champagne and live music.
You can also rent paddleboard and venture out into the lake by yourself or with a friend. Rental jet skis and kayaks are also available.
If you want to join other Tahoe residents and travelers on a public beach, you can escape to Kings Beach which is a state recreation zone spanning over 28 acres. It has a sizeable shoreline and you can sunbathe, go for a swim or boating, or go on a picnic with your family members. There are no entry fees but you may be required to pay a small parking fee if you drive there.